Pipsqueak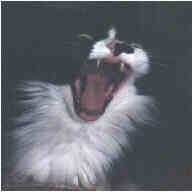 E-mail me: meow@m-m-t.com

Paw Pals Page
Resident Roving Security Monitor
You are visitor number
since August 8, 1996
Hi! My name is Pipsqueak. I was born at Dutch Master Nursery in Pickering, Ontario, Canada on March 7, 1991. I am youngest in a family of 5, 3 sisters and 1 brother.
First-born was my sister Tracker. You will find out more about her later on in my web page. I don't know where my sisters or brother are now or if they are still alive.
Tracker passed away in the spring of 1994. The farm next to us didn't like animals so poison was put down around the land. All the wild cats disappeared as well as the dogs. Squirrels have become scarce while rabbits and raccoons are hard to find.
However, I digress. While we still lived at the nursery, these two strangers came to look at us. The day they arrived, Tracker walked right up to "The Boss". Well! Talk about bold! I was very tiny and afraid of these giants who came in and stole Tracker and myself from my mommy's paws and warm, furry body. I never saw her or the rest of the family again (Mew! Mew!).
Tracker was so friendly with these strangers that she made me belittle myself by depending on them for my food. I wanted my mommy's warm milk and the comfort of our box in the closet where we were all born.
It didn't take Tracker long to fit into this family's home. She found the food dish a little different from the rest of the floor. Tracker's nose was put into the nice, warm kitten food and baby cereal mixed together. I couldn't get the knack of putting my face down into that mess and licking my chin. Tracker got all four paws into it and had a field day.
I couldn't figure out how to do it so, can you guess what they did? They fed me with a doll's bottle. I missed my mommy and the way she fed me, after which I would curl with my brother and sisters in the safety and warmth of mommy and listen to her singing to us. Here in this new home, they would make me eat out of a cold, heartless bottle with no feeling for me. Afterwards, she put me on this white, soft thing with my sister and left us alone in this big, scary kitchen. Every four or five hours, she would force me to eat. After the third day, Tracker told me to try the dish. She said it was easy. Easy for her to say! I lost my balance and fell into the slop. Tracker must of loved me because she helped me clean myself off. After that it wasn't so hard to eat.
I will paw off for now, and let you go kitty-napping.
Please e-mail me and tell me about your first feeding with the giants.
P.S. I'm the good-looking kitty on the left in both pictures.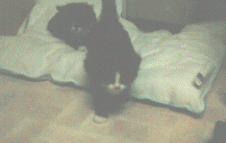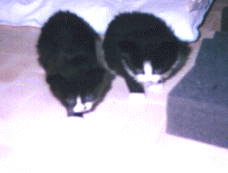 ---
Hi again to all my fellow felines (and canines who are eavesdropping. You know who you are.)! Pipsqueak here and today I'd like to share with you my litter pan experience.

As a kitten, do you remember the giants watching to see if you would go to the washroom? Where is one's privacy? Well, these giants gave Tracker and me this monster-size grey plastic box. Grey styrofoam bricks were used as steps; two on the outside to get in and two on the inside so we could get out after we had finished our business. My mommy taught us to use the paper in the house I was born in.

Tracker and I would play king, or rather queen, of the mountain for hours on the grey styrofoam bricks. What else was there to do with oneself when the giants were away.

Time went on and the bricks disappeared. The box got smaller.

Well! I'm going to bug one of the giants on his computer desk. He likes to be called the Boss but we know better, don't we? Still, a kitty must be careful around these giants. For all their size, they have such delicate egos.

Bye for now and please write me about your litter pan experiences.
---
Here's a memory to curl up and get comfortable with. I remember the first night Tracker and I were in this house that I now call home. It was time for the giants to sleep. They don't have the leisure to sleep when we do (ie. whenever we want). It can make for some awkward situations in the middle of the night.

Anyway, the man giant was worried about Tracker and myself being alone in the kitchen that first night. So, he got us to follow him up the long hall. Well! We were in a room we hadn't seen before. Mind you, we hadn't been beyond the kitchen before this so that isn't really saying much.

While Tracker and I were getting our bearings, the man giant pulled down this long soft thing from the corner of the bed. It was the comforter. The man picked us up and put us halfway up. Or was it halfway down? Wherever the man giant did put us, it was his biggest mistake. From that day on we took over the bed.

Sweet napping on those comforters, pillows, window sills or wherever else you curl up and get comfy.

Your fur ball Pip.
---
How many of my fellow felines enjoy the freedom of the outdoors? How many more of you remember your first trip out of doors? Well! I remember Tracker's and my first trip to the outside. It was April and I remember the cold wind blowing at our tiny bodies.

The giants put a harness on both of us and tied us up around the house. For a few hours, and in a different place each day, they tied us up in order to teach Tracker and I that this was our safe place to go if we needed food, warmth, and loving care.

On the fifth day of playing "tie me up", the giants forgot the harness and rope and we were free. FREE!!! Free to go where no other kitty had gone before, at least none that I knew.

The world was so big for Tracker and me. The grass around the house hadn't been cut for years. It was a jungle out there. The giants had moved into this house in March, a week after we had been born. The house, the grass and that big big old oak tree were new to all of us.

When we were let out in the cold, the woman giant would always come and watch us like a hawk. Well! One day, Tracker went one way and I went the other way and she didn't know which one of us she should watch.

One morning, the woman giant opened the door for us and put the two of us out. She didn't come out to watch us. We were left to fend for ourselves.

This part of the story is making me cold!!!! And the wind is blowing fiercely outside. I'm going to find a comfortable spot to dream. Maybe the comforter on the bed.

Do you recall your first day outside (or inside) by yourself? Please write me at meow@m-m-t.com
---
Well! I'm back to tell all of you how we ended up in this family. Despite their size, these giants are kind. Tracker and I knew that they had had cats and kittens, dogs and rabbits before they found us.



The woman giant had once had Misfit who was killed crossing the road on Hwy #7. Her children had given her Misfit for a mother's day gift.

After Misfit, there was Bummer. She came from the Toronto Human Society in Toronto. Bummer died in a house fire after she went to her safe place in the basement.

Before Bummer was Dean who was 11 years old before passing away.

And before Dean, there was Pussybaby who was given as a present to her on her fifth birthday. Pussybaby was put to sleep when she was 17 years old. Pussybaby had kittens from some of her litters living with her. There was Tom, Toby and Tikki. They too have since passed away.



The man giant had Felix who got sick and died.

Oscar died in the fire with Bummer. They were found in the basement on that cold, December, early morning blaze. Felix and Oscar were sisters from Windsor. Their names suited them perfectly. Felix was clean and slim while Oscar was scruffy and fat. Unfortuneately, they were named before it was known that they were lady kitties.

Before this odd couple, there was Mr. Roberts who passed away at the old age of 12 years.



Felix and Oscar were living in the house first. Misfit came with the woman giant when she moved. After the passing of Misfit, she went out and got Bummer to be her own.

Felix and Oscar were named after the Odd Couple on TV. Misfit was named after her misfit children while Bummer was named because she would sleep with her bum in the air.

This is everything about the fur balls who came before us. Some of it is sad but, of the greatest importance, is that they had a good home, as Tracker had, and as I now have myself.

Next time you will find out how Tracker and I received our names.
---